O.P.
Read the edit at the bottom before we go crazy on theories

This problem was reported on the
Dutch forum
. So far 4 people have been reporting the same issue within a day, which is a lot for Dutch forum standards.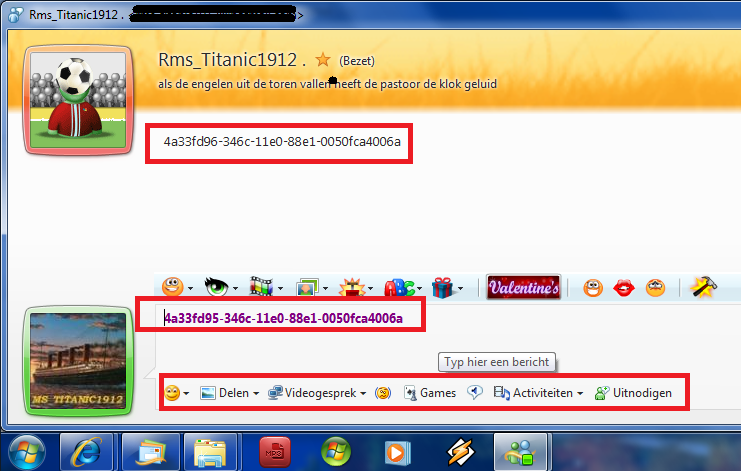 The problem is they are seeing odd codes in their conversation windows. I believe they are codes representing nicknames, didn't we see the same kind of codes with Yahoo contacts in old Plus! versions?
These codes seem to randomly appear in the conversation window, even in the typing area. Deleting it from the typing area doesn't matter because it returns within seconds. As you can imagine this make having a normal conversation almost impossible. It happens with any contact. Uninstalling Plus! solves the problem
Also note from the screenshot Plus! doesn't completely hook into Messenger (missing Plus! icons). Unfortunately the person who posted the screenshot is also using SweetIM. But I doubt all 4 of them are using SweetIM (asked them, still waiting for a reply). Asked the person with SweetIM to try it without SweetIM, still waiting for a reply on that too.
Another person mentioned he had this issue on WLM2011 with earlier Plus! versions too. Which seems odd because earlier Plus! versions didn't hook into the conversation window at all. But still, uninstalling Plus! fixes their issue. Wild speculation, but could this be a bug which only surfaces when Plus! doesn't properly hook into the conversation window for some reason?
Person 1 (Ms_Titanic1912): Win7 NL / WLM2011 (1109) NL / Plus! 5 (702) NL / SweetIM (Eng)
Person 2 (friend of person 1): WLM2011 / Plus! 5 (702)
Person 3 (luitzen): Win7 / WLM2011 / Plus! 5 / SweetIM
Person 4 (kameleon20): Just mentions his girlfriend has the same issue, no further info
INSTA-EDIT:
While I was typing this thread another person mentioned he is using SweetIM too. Both of them uninstalled SweetIM and confirmed this solves their issue. So I think it is save to assume this is yet again caused by the Plus! + SweetIM combo. Still figured I'd post the thread, could be useful for others who have the same problem (possibly only happening in this way on Messenger 2011).